Part-time Jobs in January 2016 with the Central Statistics Office
The CSO will launch the third and final phase of the recruitment campaign
with the advertisement of approximately 4,700 census enumerator positions
in January, 2016. Census enumerators typically work 22 hours a week, mostly
evenings and weekends, and the contract will run for 10 weeks from 21st
March until 27th May 2016.
More info on the CSO webpage
Voter Information Session CORK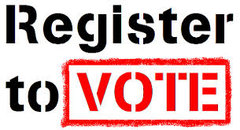 Voter Information Session in Cork
On Tuesday 3rd November
From 10.30am-12.30pm
At NCP Office, 107 Shandon Street, Cork. 
The workshop will cover:
How to register to vote
Eligibility to vote
Political parties in Ireland
Reasons to vote and have your voice heard!
This is being facilitated by 50:50. 
Please contact Erin to book your place on this workshop on 021 2399910.
Latest News
Upcoming Events