New Service Supporting Families Experiencing Childcare Interventions Opens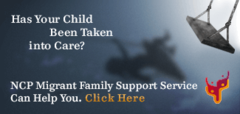 The Migrant Family Support Service, a new FREE service assisting families experiencing childcare interventions will open in March 2014.
The dedicated service will offer practical advice and support to migrant families across Ireland whose children have been placed in care. 
Click For Further Information and Clinic Times
See How NCP Migrant Support Groups Fundraise
See how NCP migrant support groups fundraise. Check out their ideas and see where migrants can access migrant funding in Ireland.   
Thanks to Community Foundation for Ireland.  
Latest News
Upcoming Events