Dublin City University (DCU) Summer Program July 2014
Dublin City University is delighted to host their 4th Summer School in July 2014, with some exciting lectures and workshops lined up in areas of Health & Well-Being, Career & Personal Development and Green Living & Environment. 
As only 15 placesare available on each workshop, booking is kindly requested; however, it is also possible to simply drop in on the day.  All classes take place in DCU in the Community, Shangan Road, Dublin 9.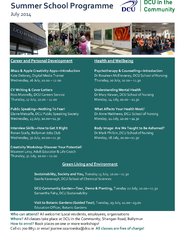 Different Workshops on iMacs Apple Creativity Apps, Career Development, Public Speaking etc will take place  each week - Tuesday 15; Tuesday 22; Tuesday 29 and finishing on 31 July 2014
 All workshops are free.
 For more details please call: 01 700 8851 Email: joanne.ozarowska@dcu.ie
Preparation Course for those going to College in 2014
The CDETB Adult Education Service is delighted to offer 2 Preparation for college courses in Liberties College, Bow Alley St, D8 in June 2014.
These courses are aimed at people who have secured a place to start college in September 2014. Course content will include: study skills, academic writing, presentation skills.
 There are 2 course options available: 1. Preparation for College  2. Preparation for College ESOL
 Courses will run on Mondays and Wednesdays 10.00-12.30 from June 9th - July 2nd in Liberties College, Bow Alley Street, D8
 To register please REQUEST APPLICATION  first, then complete and return to: Lisa O'Connor, Adult Education Service, Liberties College,  Bull Alley Street, Dublin 8
Latest News
Upcoming Events