FREE Healthy Nutrition and Cookery Course
Migrant Family Support Service (MFSS) and the Hill Street Family Resource Centre are offering a great nutrition course.
Classes will take place every Thursday, for 4 weeks only, from 10 am- 12 noon.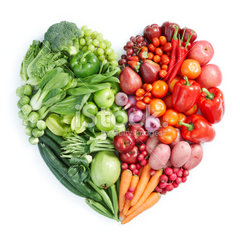 Course starts Thursday, 20 November 2014 
Course venue: Hill Street FRC, Hill Street, Dublin 1.
Limited places available, so be sure to book as quickly as possible to reserve your place. 
For further information, contact tel 087 953 1815 or email familysupport@newcommunities.ie
Tips on How to Find a Job in 2014
The Dublin City Public Libraries Career Direction and Development Programme continues with the FREE lecture "Tips on How to Find a Job in 2014". 
This lecture will be presented by career expert Peter Cosgrove from CPL Recruitment. Please see the poster and contacts below for full details of this event.
Date: Wednesday 26th November, 2014
Venue: Central Library, Ilac Shopping Centre, Henry Street, Dublin 1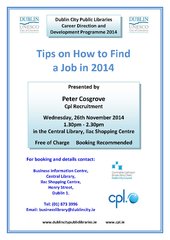 Time: 1.30pm - 2.30pm
While the event is free - booking is recommended to get a place by contacting the following:
Peter O'Reilly (Librarian) Business Information Centre
Central Public Library, Ilac Shopping Centre, Henry Street D 1
Tel: 01 8733996 /8734333 Fax: 01 8721451
Email: businesslibrary@dublincity.ie Website: www.dublincitypubliclibraries.ie
Latest News
Upcoming Events