Report into the Practices of Professional Artists from Immigrant Background
A Report into the practices of professional artists from immigrant and traveller backgrounds was launched on May 7 2013.  
The research examines the many challenges and barriers that artists from immigrant, new communities and Traveller backgrounds face as they attempt to build careers in the arts and culture sector in Ireland.
The Report was commissioned by New Communities Partnership, South Dublin County Council Arts Office and Social Inclusion Units, Dublin City County
Social inclusion Unit, and Tallaght Community Arts and the Arts Council Local Partnership Scheme. 
 
 
New Communities Partnership 2013 AGM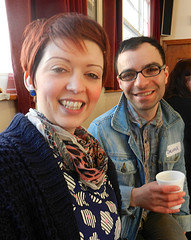 New Communities Partnership AGM took place on Saturday May 11 2013.  Many thanks to all member organisations nationwide who travelled to Dublin.
The two keynote speeches were delivered by Issah Huseini, CEO, New Communities Partnership and Elena Moreo, Trinity College, Dublin.  
Latest News
Upcoming Events