Kurdish Irish Society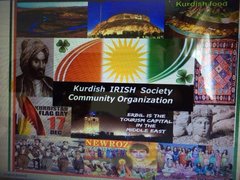 The Kurdish Irish Society is a charitable non-profit organisation designed to cater to the social, cultural, and education needs of all Kurdish people living in Ireland. Founded in 2000, the Kurdish Irish Society was first set up to assist Kurds and people from the Middle East who were arriving to Ireland as refugees. The main aim was to provide support, establish a solid integration process, assist them in obtaining their rights as humans dwelling here.
Since its inception, it has managed to help thousands of refugees with data on housing, education, healthcare, social, work and social welfare.
Today, the society organises regular gettogether parties to bring together people of different cultures and to introduce Kurdish people to Irish culture. The Kurdish Irish Society holds regular food and culture exhibitions and works to promote and encourage multiculturalism in Ireland.  
As it enters its 20th year, the Kurdish Irish Society is actively seeking new members to continue its work, including (but not limited to) dancers, singers, actors and any other interested people. You can get in touch to express your interest in joining/participating by emailing fillfell46@gmail.com. 
The Kurdish Irish Society has been a member of NCP since January 2011 and is also affiliated with various other registered organisations such as the PPN, DOJ and overseas communities.
About the Kurdish Irish Society's Work
Chairperson of the Kurdish Irish Society Zhyan Sharif has been heavily involved in migrant advocacy for decades. In addition to being one of the founding members of NCP, she has also addressed politicians in Leinster House. The Society has also met with four Irish presidents. 
Get Involved
The society is open to all Kurdish people living in Ireland and is also interested in hearing from the media. The society is particularly interested in hearing from other groups, as well as funders, sponsors, other communities, event managers, and councils. 
To contact the Kurdish Irish Society, you can email fillfell46@gmail.com or find them on Facebook at www.facebook.com/KurdishIrishSociety.