Mexican Community in Cork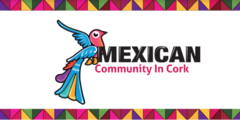 The Mexican Community in Cork is a community-based group whose aim is to support the integration of its members in Cork while promoting Mexican culture and traditions in the area. To this end, the group have been involved in many cultural events in Ireland, including the 2019 St. Patrick's Day Parade in Cork, Cork Jazz Festival, NCP's own Multicultural Festival, and several Mexican culture and arts events. 
Based in the Cork City area, the group is open to new members from the area, as well as to hearing from other community groups and members of the media. 
Get in Touch
The Mexican Community in Cork maintain a strong online presence. You can find them at their website mexicancommunityincork.ie, including a list of events that are coming up for the group. You can also find them on Facebook at www.facebook.com/mexicancommunityincork or Twitter at twitter.com/MexicansInCork. 
Alternatively, if you would like to speak to the group more directly, you can get in touch with Cecilia Gamez Campanella or Patricia Neilan on (086) 605 2294 or by email at mexicansincork@gmail.com.