Census 2011 Forms Available in 21 Languages
17 Feb 2011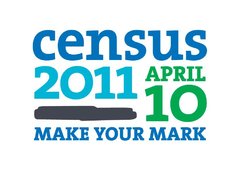 A Census will take place in Ireland on April 10th next and everyone who is in Ireland on that night must be included in the census.
How does the census take place?
A census form is delivered to every household in Ireland by a census person. The person will call back after the census April 10th date to collect the completed form. The form should be filled on April 10th 2011 filling in the details for each person in the house on Census night. The form should be kept in a safe place until the Census person calls to collect it. The Census Person will also answer any questions and gave a helping hand with filling in the form if asked.
Who is included?
Everyone is included. A census form must be completed for everyone in Ireland on Census night. This is compulsory, by law.
Why have a census?
The census is the way that we take account of everyone in our society and what their position is - what their needs and abilities are. The information we get helps us all - whether government, local authorities or local communities - to make informed and therefore better decisions about the future - whether about what services to provide or to justify the need for the services we are seeking to have put in place.
Is it confidential?
It is also important for everyone to know that the information provided on their census form is completely confidential and to assure people that none of the details supplied on the census form, by any individual, will be disclosed to any other government department or agency. Census information is only provided to other organisations in the form of statistical data and cannot be used to identify any individual's personal data.