Citizenship Application Support Service Seeks Volunteer Information Officers
15 Aug 2012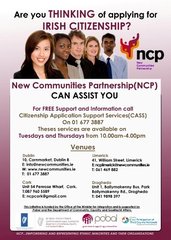 New volunteers needed to help with Citizenship Application Support Service (CASS) national free phone help line and drop in centres.
What's Involved for Volunteers
Volunteers will participate in training over several weeks, which is followed by one or two shifts per week.
Further training is provided throughout the course of the part-time volunteer placement to support volunteers in their duties.
Drop in centres are located in Dublin city centre, Lucan, Clondalkin, Cork & Limerick
The Helpline & Drop In Centres are open from 9.30 am to 4.30pm
Shift hours vary with each drop in centre
Who Should Apply
We are looking for men & women who are over 21 years of age, have a warm manner, are good listeners and who have an interest in helping others. If you feel that you have relevant skills and experience, we would love to hear from you.
For more information contact Citizenship Application Support Service Tel 01 8196653 or Email citizenshipsupport@newcommunities.ie