New Communities Partnership Invites Proposals to Evaluate Citizenship Application Support Service (CASS)
23 Aug 2012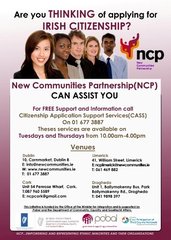 New Communities Partnership (NCP) invites tenders from qualified individuals and organisations for an evaluation of the Citizenship Application Support Service. It is expected that the evaluation will begin in late September 2012 and will be completed by the end of October 2012.
Evaluation Terms of Reference
Closing date for submission of proposals:
The closing date is 5pm Friday 14 September 2012.Late applications will not be accepted.
Proposals should be submitted to: citizenshipsupport@newcommunities.ie
CASS Evaluation is supported by the Citizens Information Board.