Ever Thought About Having Your Writing Published..Are You Under 19 Years
1 Oct 2012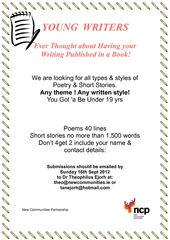 Migrant Writers & Performing Artists Ireland is now accepting submission from young writers. You gott'a be under 19 yrs of age. We are looking for all types & styles of Poetry & Short Stories. Any theme! Any written style!

Just Remember ...
Max 4 poems per person.
No more than 40 lines.
Short stories no more than 1,500 words.
You can submit both poems & a short story.
Don't 4get 2 include your name & contact details.
Deadline is Sunday 30th Oct. 2012. Submissions should be emailed as a single attachment to :
Dr Theophilus Ejorh at: theo@newcommunities.ie or tanejorh@hotmail.com

Kindly Supported By Dublin City Council & the Community Foundation of Ireland