Froebel College of Education Consultation on Interculturalism
21 Nov 2012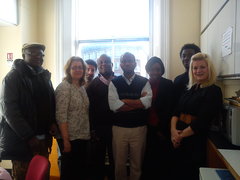 The Froebel College of Education is holding a series of consultations with primary school parents from ethnic minority member groups on interculturalism as part of their policy paper 'Guidelines for Intercultural Events in Schools'.
The series begins on Monday 5 November 2012 in Dublin with parents from Dublin city centre.
Start Date: Monday, 5 November 2012, 10 am - 1 pm.
To Register: contact gwen@newcommunities.ie