2012 Directory of Migrant Organisations & Support Groups Now Available on Line
10 Dec 2012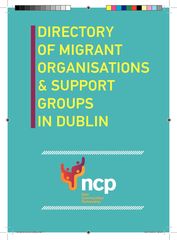 New Communities Partnership new A - Z Directory of migrant organisations and support groups, a who's who with links to over one hundred organisations and support groups in Dublin is now available online.
The '2012 Directory of Migrant Organisations & Support Groups' is an excellent, up to date reference for media, public servants, research students and service providers.
See Minister Joe Costello, Minister of State for Trade and Development launch the Directory on Friday 7 December 2012.