NCP Seeks Office Administrator
9 Oct 2013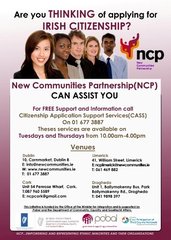 Citizenship Application Support Service Seeks Office Administrator  
Interested in law, human rights,and supporting people with information provision? Want to improve your admin skills?
Our Citizenship Application Support Service, a free service for people seeking information on Irish naturalisation is looking for staff. If you are over 25 years of age, and in receipt of a social welfare payment for one year or more, then we would love to hear from you. 
Please contact your local Department of Social Protection Employment Services/Intreo Office to check your eligibility and to apply for this vacancy. Quote Job Reference Number 797135. Eligibility to participate on Community Employment is generally linked to those who are 25 years of age or over and in receipt of an Irish social welfare payment. 
Start Date: 18/11/2013
For Further Information Contact: Martin Ade Onojob - Tel 01 8733799 or E mail cesupervisor@dublinaidsalliance.ie. .
Location: Citizenship Application Support Clinic, 44 Lower Gardiner St, Dublin 1