Migrant Family Support Service
8 Jan 2014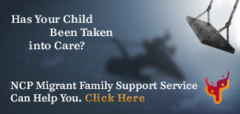 The Migrant Family Support Service, established in January 2014 is a new confidential service delivering culturally sensitive supports and advocacy services to migrant families, who are experiencing child protection interventions.
The Service offers practical advice and support to migrant families, foster families and social workers. The Migrant Family Support Service will work with existing child protective services and child support services, to promote the common goal of positive outcomes for migrant families.
The Service is an ethnic friendly support network aiming to empower the migrant families through:
one to one support - outreach services - family support groups
We have a team of dedicated staff and volunteers coming from a variety of cultural backgrounds and faiths that will guide the migrant parents through the complex systems of child protection interventions. The Service is FREE of charge and operates in strict confidentiality.
Clinics take place each Thursday, 10 am - 2 pm at New Communities Partnership, 53 Upper Dorset St, Dublin 1 and New Communities Partnership, 107 Shandon Street, Cork.
Appointments are Necessary.
To Book an Appointment or Contact the Service in Confidence - Contact Daniela Jurj, Migrant Family Support Service - Tel: 01 8727842 / 087 9531815 or E-mail: familysupport@newcommunities.ie
Cork - Contact Erin Geragthy, Migrant Family Support Service Cork, 107 Shandon Street, Cork.
Tel - 021 2399910 / 087 9605589 or E-mail: ncpcork@gmail.com