Migrant Family Support Service Opens March 2014
5 Feb 2014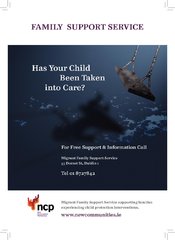 The Migrant Family Support Service, established in January 2014 is a new confidential service delivering culturally sensitive supports and advocacy services to migrant families, who are experiencing child protection interventions.
The Service, funded by the Tusla Child and Family Agency, offers practical advice and support to migrant families, foster families and social workers. 
The Service empowers migrant families through:

- One to one support - Information and Advocacy
- Outreach services
- Cultural Support
- Child Protection Training
We have a team of dedicated staff and volunteers coming from a variety of cultural backgrounds and faiths that will guide migrant parents through the complex systems of child protection interventions. The Service is FREE of charge and operates in strict confidentiality.
Clinics take place in Dublin and Cork.
Appointments are advisable.
For Further Information or Book an Appointment -
E-mail: familysupport@newcommunities.ie
Dublin -  Migrant Family Support Service, 53 Upper Dorset St. Dublin 1.
Tel: 01 8727842 
Cork -  Migrant Family Support Service Cork, 107 Shandon Street, Cork.
Tel: 021 2399910 
--