International Childrens Stories Competition: Are you the next star of childrens literature?
23 Apr 2014
International Childrens Stories Competition: 
The theme of the 2014 competition is "Grandad, grandma and I in our multicultural society". Submit your story for children aged 1-3 years or 4-6 years no later than 31 August 2014.
The two winning stories will be published as illustrated children's books in both Dutch and English by Clavis Publishers.
 Who can participate?
Everyone! Amateurs, professional writers – in fact any individual who likes to write children's stories, regardless of age, ability, background, education, language, nationality, country of residence, etc. Individuals of 50 years and older are especially encouraged to submit a story!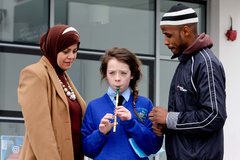 How to submit a story?
Upload the final version of your story in either English or Dutch using the online form available at www.inclusiveworks.eu no later than 31 August 2014.
 For this year's competition we are looking for children's stories inspired by the interaction between elderly people and children in today's multicultural societies. Entries should show, in a fun, playful and appropriate way, the important role(s) played by grandparents and (other) elderly people in the lives of the children in these societies.
For more details: http://www.inclusiveworks.eu/