Fingal County Council's Community Person of the Year
16 Sep 2014
Fingal County Council's Community Office continues to acknowledge and celebrate the great work of volunteers who make a difference to our communities because of their hard work,
dedication and vision. The Community Person of the Year Award is an opportunity to do this.
This award will honour an individual who through their voluntary work has made a significant contribution to the quality of life of the citizens in Fingal. The Community Office wishes to celebrate our unsung heroes who through their volunteering inspire people of all ages to make a difference within their community. Their selfless work and giving generously of their time enhances the wellbeing of others.
We are looking for nominations of people who are working voluntarily in any (but not limited to)
the following areas: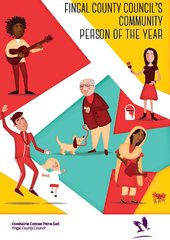 •• A young person who is contributing positively to their community
•• An older person proving that age is not a barrier to volunteering
•• A sports person who is helping to increase participation in local sports
•• Inspirational people who are enhancing the wellbeing of others through their volunteering
•• Volunteers with a heart of gold who have had an impact on people's lives
•• Eco-friendly heroes who have established innovative environmental projects
•• People who are supporting the integration of our new communities
•• People who are selfless in their commitment to their communities
•• A person who drives an innovative process for engaging with their community
Who can make a nomination?

Nominations will be accepted from the general public, community organisations and elected representatives by completing entry form HERE. It is important to provide as much information as
possible about your nominee and to explain their actual voluntary contribution or service to the community as judging will be based on foot of the content of this form and any supporting documentation.
Closing date for receipt of all entries: 10th October 2014
Further enquiries relating to the Community Person of the Year Award please contact:
 Community Development Office: Telephone: 01 890 5108  T: Twitter.com/fingalcommunity FB: facebook.com/fingalcoco