GRADUATE OPPORTUNITIES IN THE IRISH PUBLIC SERVICE 2014
13 Oct 2014
 GRADUATE OPPORTUNITIES IN THE PUBLIC SERVICE 2014
Local Authorities are looking for people with the potential to contribute to the management of public services. Local Authorities will be recruiting people who possess particular qualifications, skills and competencies in areas such as Business, Project management, Strategy & Change management, HR and Communications & Marketing.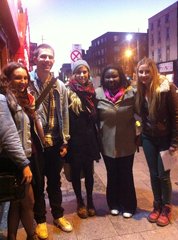 This programme will provide the necessary opportunities to develop new skills and knowledge through a combination of on-site; office-based; project specific experiential learning: formal training and accredited sector specific education. The intake will comprise individuals who have graduated in one of the following five skills areas, Economic Enterprise and Business Development; Project and Programme Management; Innovation Strategy and Change Management; HR Management and Communications and Marketing.
Candidates should note that eligibility to compete is open to citizens of the European Economic Area (EEA). The EEA consists of the Member States of the European Union along with Iceland, Liechtenstein and Norway
 Applications should be made online through www.gradpublicjobs.ie
Your online application must be submitted through www.gradpublicjobs.ie not later than midnight on 30th October, 2014. Applications will not be accepted after this date.
For further information please see link below:
http://www.publicjobs.ie/publicjobs/publication/document/1489705_Additional_Information.doc