Dublin City Council Community Grants Scheme for 2015 Activities
27 Nov 2014
DEADLINE FOR APPLICATION IS DECEMBER 8 2014 at 5PM
Dublin City Council operates a community grants scheme in order to support community participation and involvement. Under the scheme community and voluntary groups may apply for grants for activities which benefit the local community. Applications must relate to at least one key priority area in order to be eligible for consideration.
"Dublin City Council aims to support community groups with their activities and projects by promoting the participation and involvement in the city through the community grants scheme. The Community Grants Scheme is run on an annual basis. Community Groups make their applications while taking into consideration the key priorities of the scheme such as:
Community Development
Social Inclusion
Integration
Local Area Issues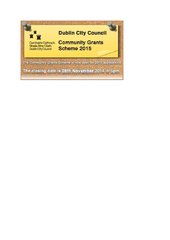 Informal Adult Education
For more details visit: 
http://dublincity.ie/main-menu-services-community-community-and-social-development-service/community-grants-scheme
For Grant Application please click --- Download an application form here.