Musicantia Extravaganza - Fundraising concert to support the work of the Musicantia Music Schools
22 May 2015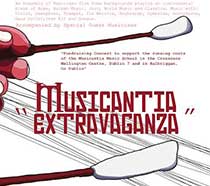 Join Musicantia, an ensemble of musicians from Roma backgrounds playing an instrumental blend of Roma, Balkan, Jazz, World and Classical Music with violin, saxophone, trumpet, tin whistle, keyboards, cybalom, accordions, bass guitar, drums and bongos. Accompanied by special guest musicans, this is a fundraising concert to support the work of the Musicantia Music Schools in Dublin 7 and Balbriggan.

Musicantia was set up in April 2013 to promote the integration of Roma communities into Irish society through music education, community arts and advocacy work. It celebrates International Roma Day annually with a concert. It runs a music school for children and young people from Roma backgrounds to ensure continuation of musicianship among second generation Irish Roma. It does this by motivating Roma youth to develop their skills as musicians so they can contribute to community arts events locally, changing stereotypes and transforming prejudice to foster their effective integration in Dublin City Council and Fingal County Council areas and elsewhere in Ireland.
You can book tickets on the Draiocht Centre for Arts and Entertainment .
NCP...Proudly Supporting Social Inclusion and Active Citizenship in Ireland for over a decade!