VACANCY: Dublin Inner City Community Co-operative Society: CEO
22 May 2015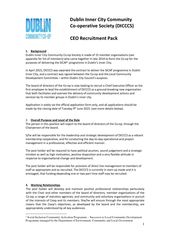 Dublin Inner City Community Co-op Society is made of 15 member organisations which came together in the latter part of 2014 to form the Co-op. In April 2015, DICCCS was awarded the contract to deliver the Social Inclusion Community Activation Programme (SICAP) programme in Dublin Inner City. The board of directors of the Co-op is now looking to recruit a Chief Executive Officer as the first employee to lead the establishment of DICCCS as a ground-breaking new organisation that both facilitates and oversee the delivery of community development actions and services by its member groups in Dublin's inner city.
The CEO will be responsible for devising and implementing all aspects of the operational plans for DICCCS taking into account the unique start-up nature of the organisation; the context and rationale for its existence; its role as a community development organisation; and the need to take responsibility immediately for the roll-out of the SICAP programme from 2015 – 2017.
The ideal candidate will have at least five years management experience and have expert working knowledge of the development and implementation of operations plans in a community development context, ideally also in a start-up situation. S/he will have a very strong personal impact (e.g. high personal credibility, outstanding influencing skills, be tough minded, be a great networker); an excellent attention to detail and be enthusiastic about getting their hands dirty.
Applications on official application form only before close of business on Tuesday 9th June 2015. Short-listing will apply and first interviews will take place on Monday 15th June 2015.
A full 'CEO Recruitment Pack' which contains essential information on the job role , context and how to apply should be read before applying. Applications to be made on the official application form.
This role is funded from specific income streams, including SICAP. At present these funding streams are approved on an annual basis. The post and its continuation is wholly contingent on funding to the Coop being available.
Dublin Inner City Community Cooperative Society Ltd is an equal opportunities employer.
Full Job Description and details are posted on the Activelik Site
NCP...Proudly Supporting Social Inclusion and Active Citizenship in Ireland for over a decade!