New EIRCODE postal codes
11 Jun 2015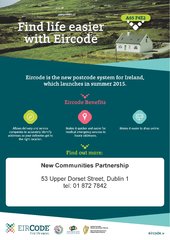 EIRCODE system will become live in 2015 and everyone will benefit from it as the delivery addresses will be very accessible using this unique code. For the moment you will not need to do anything. You will receive a letter with your code at your home. Keep this by your telephone or somewhere easy to remember as in case of emergency you will be asked this code.
For more information visit the EIRCODE pagehttps://www.eircode.ie/
NCP...Proudly Supporting Social Inclusion and Active Citizenship in Ireland for over a decade!