Intercultural Family Day - 3rd December 2016
3 Dec 2016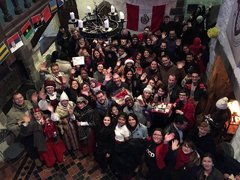 Intercultural Family Day - 3rd of December 2016
New Communities Partnership in collaboration with Peruanos en Irlanda/ Peruvians in Ireland has organised a special and exciting Intercultural Family Day to celebrate winter holidays on 3rd of December 2016 in Drimnagh Castle. We had a wonderful event in which all the new communities families and their children shared a day filled with cultural music, dances, entertainment, face painting, raffle tickets, Santa and a lot of fun.
We are proud of the work we have done this year and we wanted to share it with all our members, as they have been a big contribution to all the accomplishments we have had throughout the years.
We were delighted to have Cllr. Gus O'Connell, Mayor of South Dublin County Council, welcoming our guests and celebrating with us. We would like to thank the groups who entertained us: Peruvians in Ireland, Latvian Choir, Marinera Dance Group, Alma Boliviana Ballet, Sandra and DJ Raspizo with the support of Maria Nicula, Stephanie Ojo and the great man, Noel.
We would like to thank all our guests for attending our event which turned into a magical and very happy one with over 100 people dancing, singing and celebrating together.Big thanks to Erica Pena who organised and planned the whole event with us.
Organised by: New Communities Partnership and Peruvian Community of Ireland.
Sponsors: Just Eat, Real events, Trinity Bar Venue, Spar, Elit Shop, Waldron Music Centre, Flybee.
This event was supported by Department of Housing, Planning, Community and Local Government , Pobal, Dublin City Council, and Dublin City Community Co-operative through Scheme to Support National Organisations 2016-2019 and Social Inclusion & Community Activation Programme 2015 - 2017