Dublin Nollywood Film Festival 2011
22 September 2011 - 23 September 2011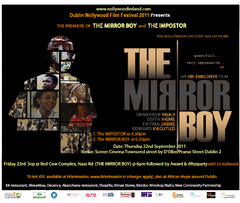 Dublin Nollywood Film Festival (DNFF) commits to celebrating Nigeria's diversity through films from Africa's most populous nation and beyond.
Check Dublin Nollywood Festival for further information.
The Festival will feature THE MIRROR BOY on 22nd & 23rd of Sept.
Screen Cinema, Dublin 2 - 22nd Sept at 4 pm
Red Cow Hotel - 23rd Sept at 4pm.
BOOK YOUR TICKET NOW (087 6987554) 10 EUROS PER A TICKET

Venue
Screen Cinema Townsend by D'Olier St. D2 & Red Cow Hotel Naas Rd, D22