Information Technology Professionals Support Network Meets Sat 21 April
21 April 2012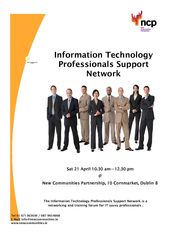 The Information Technology Professionals Support Network is a networking and training forum for IT and intending IT migrant professionals who want to network in the areas of Information Technology.
NCP facilitates the Network as part of it's commitment to developing skills initiatives within the migrant sector.
Next meeting takes place on Sat 21 April 10.30 - 12.30 pm at NCP Dublin, 10 Cornmarket, Dublin 8.
For further information contact Reginald at New Communities Partnership: E mail: info@newcommunities.ie / Tel 01 6713639