One Family to Advise July NCP Women's Space
6 July 2012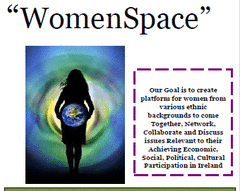 One Family, the organization that offers support, information and services to all members of all one-parent families will discuss supports for one parent families with NCP Women's Space, Friday 6 July.
Opportunities for one parents families to enter education, to undergo training or to avail of the specialist services will also be discussed.
All Women are Welcome on Friday 6 July, 11 am - 1 pm.
'Women's Space' is a new space in Dublin for migrant women to link with other women.
Women are welcome to come along on the first Friday of each month to talk, learn, laugh, network, study, discuss advice and to ask advice.
For further information contact: Adaku Ezeudo, Women's Space Co-ordinator - E Mail: ncpwomensspace@gmail.com or telephone 087 9641229

Venue
NCP, 10 Cornmaket, Dublin 8