Afghan Embassy Process Applications in Dublin
13 June 2013 - 14 June 2013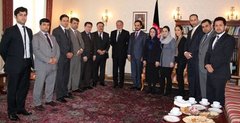 The Afghan Embassy Consular services in London will be available at  New Communities Partnership, Dublin 1, Thursday 13 and Friday 14 June 2013.
The service is for Afghans living in Ireland who have recently applied for an Afghan passport to the Afghanistan Embassy in London and were waiting for approval of their documents.
For the registration and appointment time please contact Nasruddin Saljuqi, Afghan Community of Ireland,  085 7118340.