New Communities' Enterprise and Employment Support.
9 November 2013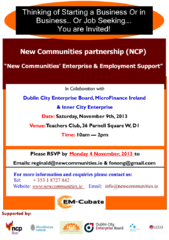 Thinking of starting a new business, or a career in business or perhaps job seeking. All invited to FREE seminar. Speakers include Dublin City Enterprise Board, MicroFinance Ireland & Innercity Enterprise will give advice and information on how to progress from unemployment to setting up a new business.
RSVP by November 4th.  
Date: Sat 9 November, 2013
Location: Teachers Club, 36 Parnell Square West, Dublin 1
For more information and enquiries please contact: Reginald Inya - Email: reginald@newcommunities.ie or  Fonong Fevant Fon - Email: fonong@gmail.com.
A special thank you to all of our sponsors. Microfinance Ireland, I.C.E., Dublin City Enterprise Board, Dublin City Council and Pobal.
Venue
Teachers Club, 36 Parnell Square W, DI