Romanian International Woman' Day Celebration
8 March 2014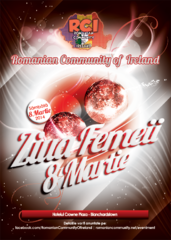 The Romanian Community of Ireland is hosting a ladies only night of fun and entertainment to mark International Woman's Day. 
It is €35 per ticket, and there is a high demand with a limited number available.
There will be a DJ,food, entertainment and a raffle. 
Date: March 8th 2014
Location: The Crown Plaza Hotel, Dublin.
For Further Information Contact: - E-mail: info@romaniancommunity.net
Venue
Crowne Plaza Hotel, Dublin