NEW FAI/FCC Street Skillz Program
3 March 2014 - 14 April 2014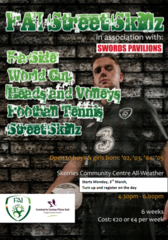 The course is aimed at boys & girls born from 2002 -2005.
Cost of the course is €20 or €4 per week.
Turn up and register on the day. Beginners and experienced players welcome.
Date: Mon 3rd March 2014, (for 6 weeks) 4:30pm.
Location: Skerries Community Centre (All weather), Skerries, Co. Dublin.
Venue
Skerries Community Centre