The Sixth Slovak Community Ball
15 March 2014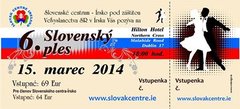 This years Slovak Ball is planned for 15thof March 2014 in Hilton Hotel on Malahide Road. The event's objective is to unite the Slovak community with friends of Slovakia, regardless of their nationality and to enjoy excellent cultural event full of fun, music and happiness.
Tickets are available in The CZECH INN BAR & RESTAURANT in Temple Bar, the Slovak-Polish shop MROZ in Belmayne, or PIFKO BAR located on Usher's Quay.
Ticket price for members of SKC-IRL is €64.00 and €69.00 for non members. Members are required to present their valid Membership Card when purchasing a ticket to be allowed to apply discount price.
 Sponsors of the event are: IRSKO.KURIER;  MURRAY FLYNN MAGUIRE SOLICITORS; THE CZECH INN and SLAVIC TRADE.
Date: Sat. 15th March, 6:00pm
Location: The Hilton Hotel, on the Malahide Road.
For Futher Information Contact: E-mail: directorskc@slovakcentre.ie
Venue
Hilton Hotel on Malahide Road