Dublin Inner City Education Fair 2014
26 November 2014
Are you interested in education and not sure what is involved; living in Inner City Dublin and environs; works with people in learning and more.
You are invited to the EDUCATION FAIR taking place on November 26th 2014 in The Pillar Room, Rotunda Hospital, D1 - entrance by Parnell Square East side!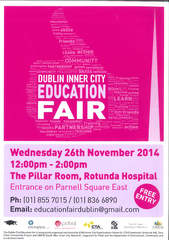 Admission is Absolutey FREE!
For more details please contact by email: educationfairdublin@gmail.com Tel: 01 855 7015 01 836 6890.


Venue
The Pillar Room, Rotunda Hospital D1