MAP Employment Training in Cork
13 September 2017 - 5 October 2017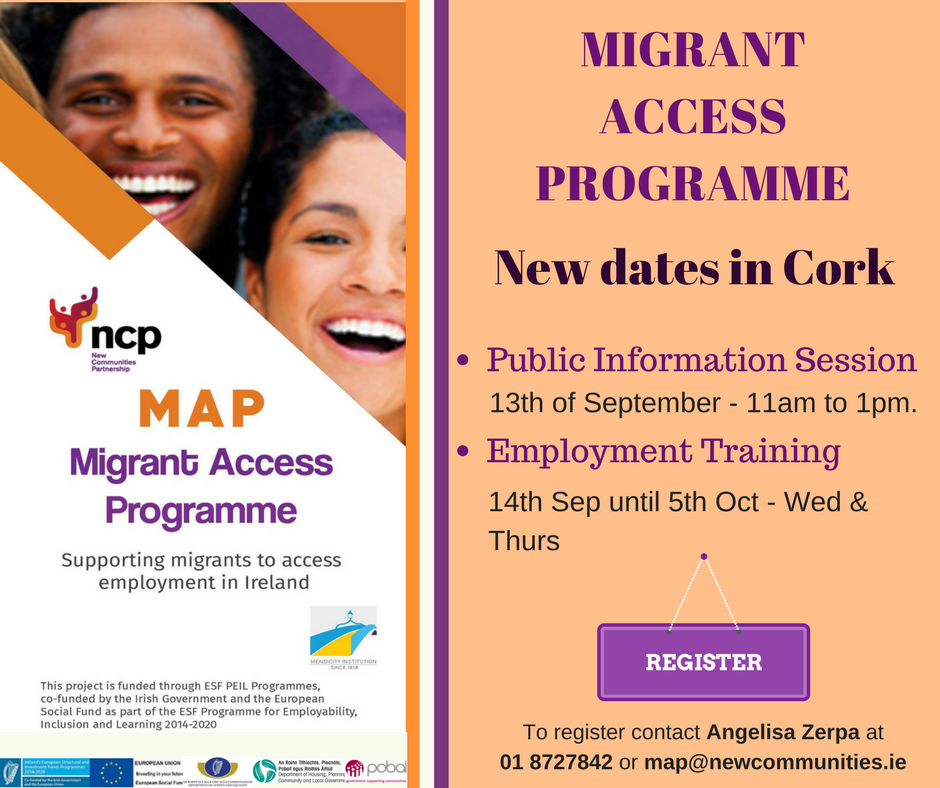 Our new project, Migrant Access Programme is having a new cycle in Cork and we are encouraging our community members to be part of it.
Our sessions will run from the 13 th of September to the 5 th of October , Wednesdays and Thursdays in our Office: 107 Shandon Street, Cork.
The Public Information Session is 1-day session about:
Employment rights and entitlements.
Qualification recognition and training and volunteer experience.
Employment supports and services available.
CV templates and interview skills.
The 4-week Employment training will cover the following:
Exploring personal work experience and skills
Drafting a CV
Acquire basic IT skills and develop ability to use online technologies for job-seeking
Identifying employment opportunities using online resources, writing cover letter and completing online applications
Initial exploration of personal career plans and individual assistance with online job search
Building a career and preparation for a successful job-interview
Building career, keeping the job, developing skills further
Enrolment conditions: We are looking for participants who are long-term unemployed, have permission to work in Ireland and are eager to find a job immediately.
Please note that places are limited so we highly recommend to contact us ASAP at map@newcommunities.ie or call 01 8727842 and ask for Angelisa Zerpa, MAP co-ordinator to register.
Venue
107 Shandon Street, Cork.
Location Map