MAP Employment Training in Dublin - April 2018
18 April 2018 - 10 May 2018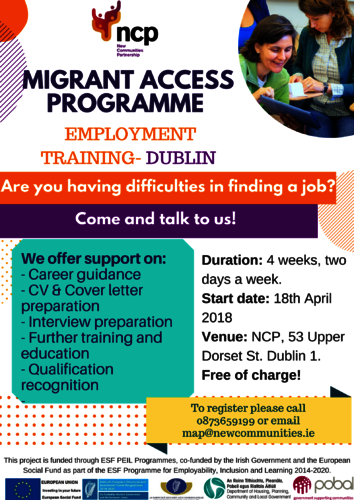 We have new dates available for our FREE Employment Training course in Dublin. 
The course will be delivered Wednesdays and Thursdays, on the following dates:
- 18th and 19th of April.
- 25th and 26th of April.
- 2nd and 3rd of May.
- 9th and 10th of May.
What do we offer?
An Information Session on Employment rights and entitlements, qualification recognition, training and volunteer experience, and employment supports and services available.
4 weeks (2 days a week) intense Employment Training of group session and one to one meetings of personalised support and career guidance on writing a successful CV, interview preparation, presentation and communication skills, English for job seeking, essential IT skills, and information on how and where to look for job.
Only, last year we supported more than 120 unemployed and vulnerable migrants in Ireland, and through our Employment Training sessions, our participants managed to secure job interviews, got back into employment, started volunteer experiences and enrolled in professional training programmes.
Location: NCP Office, 53 Upper Dorset St. Dublin 1
If you or someone you know would like to enrol in this training, please do not hesitate to contact us at 0873659199 – 018727842 or email map@newcommunities.ie for further information and registration. P laces are limited .
This project is funded through ESF PEIL Programmes, co-funded by the Irish Government and the European Social Fund as part of the ESF Programme for Employability, Inclusion and Learning 2014-2020.
Venue
NCP 53 Dorset Street, Dublin 1
Location Map