Embracing diversity: Intercultural understanding and diversity research project
14 June 2018
Wezeshada, Irish Human Rights and Equality Commission and the National University of Ireland Maynooth are inviting people from African descent or service providers in Blanchardstown to a dialogue workshop to explore preliminary findings of embracing diversity research project. 
Date: 14th of June 2018
Time: 9am to 2pm
Venue: Lecture Hall, Blanchardstown Library. 
Free of cost, refreshments will be provided. 
Please confirm your attendance at info@wezeshadada.com or 0874150906.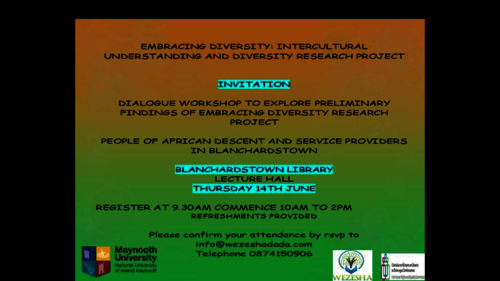 Venue
Blanchardstsown Library
Location Map