FREE Workshop for Migrants - Mental Health and Wellbeing - Cork City
19 June 2019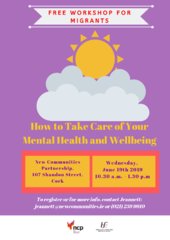 (Click on image to see higher resolution version)
Workshop on mental health and wellbeing for migrants
Do you ever feel stressed, anxious or overwhelmed? Do your problems sometimes seem too big to handle? Stress can affect our mental health and wellbeing without us even noticing it. When that happens, you need the right tools to deal with it. That's where this event can help.
Our free workshop for migrants, running on June 19th, can help you to learn new ways to take care of your mental health and wellbeing in a supportive, non-judgemental environment. A speaker from the charity Shine will teach you techniques and tips to help you cope with any challenge life brings your way. Come along and bring a friend! All are welcome.
This workshop takes place at NCP Cork - 107 Shandon Street, Cork City.
Call (021) 239 9910 or email Jeannett at jeannett@newcommunities.ie to book your place.
Venue
New Communities Partnership Cork, 107 Shandon Street, Cork City
Location Map