SIRIUS European Policy Network on Migrant Education
The SIRIUS European Policy Network on Migrant Education is a leading international policy network, which focuses on the challenges within and opportunities to improve outcomes in migrant education. It has been acting as an advisor to the European Commission since 2012.
NCP Youth is a member of SIRIUS since January 2014. Our membership of the SIRIUS allows us to represent migrants at an EU level and to effect change and better understand how to optimise learning outcomes for migrant people in education system in Ireland. As part of the collaboration we also organise National Policy Conferences and Roundtables in Ireland.
In 2019 we organised two events in Ireland: European Peer Learning Activity on the 6th and 7th of June 2019 in Temple Bar Gallery and Studios and a National Roundtable on the 11th of June 2019 in the Teacher's Club, Dublin.
European Peer Learning Activity in Dublin: The main focus of the Peer Learning Activity was to educate other EU countries about the positive results achieved by Ireland and the Department of Education and Skills through our policies, procedures, and through the Delivering Equality of Opportunity in Schools (DEIS) programme. Fifteen network members attended the two-day event, including delegates from the ministries of Education in Sweden and Estonia as well as EU experts from Brussels, the Netherlands, Croatia, Iceland and Italy. We also had national stakeholder and speakers from Department of Education and Skills, TUSLA, CDETB Youth and Education Service for Refugees and representative from Department of Justice and Equality. Link for the pictures.
National Roundtable: The topic of the Roundtable discussion was Linguistic Diversity in Irish Classrooms. Eighteen stakeholders from diverse backgrounds attended the National Roundtable, including school principals, policy makers from TUSLA, Department of Education and Skills, representatives from migrant grassroots organisations and migrant parents.
At the Roundtable, Dr. Francesca La Morgia, Assistant Professor in Clinical Speech and Language Studies at Trinity College Dublin, presented on the linguistic diversity of Irish classrooms, with a focus on the experiences of bilingual children. There was also a focus on the challenges facing teachers in Ireland and the resources available to them. She also discussed the best practices developed in other European countries and how those are implemented. An article about the roundtable was published on Trinity College Dublin website.
Click below to view the pictures from the previous events:
SIRIUS National Roundtable 2018 in Irish Human Rights and Equality Commission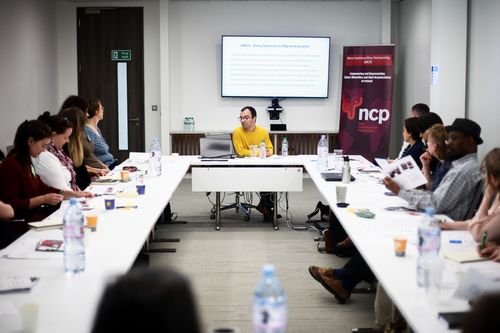 SIRIUS National Conference 2014 in the Mansion House Dublin