Irish Citizenship Application Form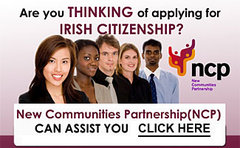 CITIZENSHIP APPLICATION IRELAND
YOU MUST USE THE CURRENT VERSION OF THE FORM TO MAKE AN APPLICATION. THESE ARE AVAILABLE BELOW.
Applications received on old versions of the form will be returned. 
The forms include an application guide and a checklist to assist you in completing your application. Please read all guidance carefully before filling out and submitting your application. Invalid applications are returned in their entirety for further attention.
POSTAL ADDRESS FOR APPLICATIONS ON BEHALF OF MINORS:
Citizenship Applications (Minor)
PO Box 12079                                  
Dublin 1
POSTAL ADDRESS FOR ADULT APPLICATIONS:
Citizenship Applications (Adult)
PO Box 73
Tipperary Town
Naturalisation Forms
There are four different naturalisation application forms:
Supplementary Forms
Other Citizenship Forms
Jan 2015