Advocacy Training for Migrant Groups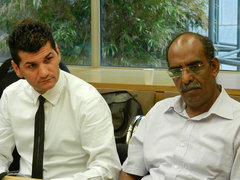 Knowing how to make effective presentations to politicians, service providers and institutions is a key skill.
This course aims to support migrants to actively represent themselves, and to participate more fully in Irish life.
Course Content
How to develop strategic alliances with state institutions
Developing effective committee skills
Developing effective participation and representation skills
Understanding the major state institutions in Ireland  - education, legal and political
Identifying strategic networks (non statutory)
Identyfying sources of funding
How to complete funding applications
How to monitor and evaluate projects
Developing advocacy skills
Understanding the workings of the media in Ireland
At the end of the course, participants should feel confident that they can effectively engage with state service providers, that they can articulate their concerns as individuals and as communities at local and national level and, that they have a fuller understanding of economic, social, political and cultural life in Ireland.
Clients & Partners include - Belfast City Council, PEACE III Southern Partnership, Newry and Mourne District Council, Cork City Integration Strategy Committee, Dublin City Integration Forum, Dun Laoghaire Rathdown Ethnic Minority Integration Forum, Fingal County Council, Irish Aid, Letterkenny 300, Limerick City Integration Working Group, South Dublin Migrant Integration Forum,  EURO CITIES Implementory, MIXITES Europe, Greek Forum of Migrants.
For up to date information on available training please, please email info@newcommunities.ie.
NCP Training Publications 2013.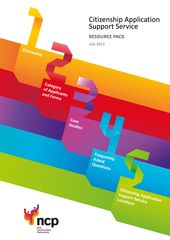 Cover image for NCPcitizenship-July 4
Summary
in March 2011, New Communities Partnership established the Citizenship Application Support Service in recognition of the need to promote a greater understanding of the citizenship application process among immigrants, and information providers in ireland.
The Citizenship Application Support Service Resource Pack (2013) is a comprehensive guide to those applying for Irish citizenship.
Cover image for A Practical Guide to Integration for Local Authorities 2013