Applying for Irish Citizenship - Training for Information Providers & Non Legal Professionals
Citizenship Application Process
NCP's Citizenship Application Support Services (CASS) runs specialist one-day courses on the Irish citizenship application process for information providers and professionals, working in migrant support and advocacy.    
Level 1 and Level 2 are suitable for information providers, who have some experience of the Irish citizenship application process.                                                                                                
Level 3 is for experienced information providers who have a good understanding of the naturalisation process and, who may wish to build the capacity and advocacy skills of staff within their service.
Clients include South Kildare Citizen Information Service, Clare Immigrant Support Centre, Migrant Rights Centre of Ireland, DORAS, Watereford CIC, Edmund Rice Integration and Support Unit.
Click to request further information of upcoming course dates, or telephone (01) 535 7238
 Child Protection Awareness Training Program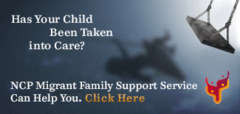 Migrant Family Support Service (MFSS) offers a one-day training program for community leaders, pastors, imams, Sunday school teachers and Quran teachers.
The Child Protection Awareness Training Program is free of charge and is delivered in an interactive manner.
The aim of the training is to raise awareness of Children First legislation and the communities' duty of safeguarding children.
For more information or to book a training session, please email familysupport@newcommunities.ie or phone (01) 872 7842.
View NCP Training Publications 2013
Cover image for NCPcitizenship-July 4
Summary
in March 2011, New Communities Partnership established the Citizenship Application Support Service in recognition of the need to promote a greater understanding of the citizenship application process among immigrants, and information providers in ireland.
The Citizenship Application Support Service Resource Pack (2013) is a comprehensive guide to those applying for Irish citizenship.
Cover image for A Practical Guide to Integration for Local Authorities 2013