Level 1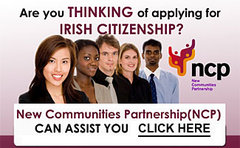 Level 1 is suited to information providers who have some experience of the Irish citizenship application process.
The course takes information providers through the application form, and includes updates on the most recent legislation in the Irish citizenship process.                                         
Level 1
Calculation on Naturalisation Residency Calendar
Eligibility Criteria of Client
Immigration Stamps
Proof of Address
Reckonable Residence
Refugee Travel Documents
Social Welfare Eligibility
Clients include South Kildare Citizen Information Service, Clare Immigrant Support Centre, Migrant Rights Centre of Ireland, DORAS, Watereford CIC, Edmund Rice Integration and Support Unit.
Click to request further information of upcoming course dates, or telephone Frank Odei Tettey on (01) 5357 238.
Page Updated 27 February 2019