Level 3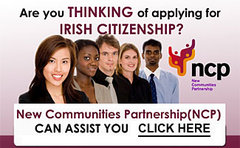 Level 3 is for experienced information providers who have a good understanding of the naturalisation process, and who may wish to build the capacity and advocacy skills of information officers within their service.
Level 3
Clients include South Kildare Citizen Information Service, Clare Immigrant Support Centre, Migrant Rights Centre of Ireland, DORAS, Watereford CIC, Edmund Rice Integration and Support Unit.
Click to request further information of upcoming course dates, or telephone Frank Odei Tettey on (01) 5357 238.
Page Updated 27 February 2019