Free English Classes for Migrant Women
New Communities Partnership, in collaboration with Southside Partnership, is pleased to offer weekly English classes to migrant women from developing nations.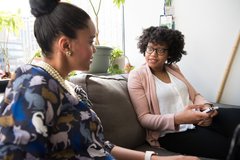 If you are a migrant woman from a developing nation who is seeking to improve your English abilities and meet new people in a welcoming and supportive environment, these classes are made for you! 
Classes are completely free to attend and take place every Saturday from 10 a.m. to 12 p.m. at NCP's head office on 53 Upper Dorset Street, Dublin 1. 
Our English classes are open to any migrant woman with an interest in learning English; beginners are especially encouraged to attend. 
How to book your place
If you would like to attend, or would like some more information about what you can expect, then get in touch with NCP social inclusion coordinator Raymond Muwaniri on (087) 341 7440. Alternatively, please email raymond@newcommunites.ie