Migrant Entrepreneurship Training Skills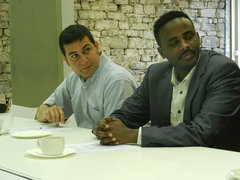 NCP Grant Application Training, Dublin 2013

This is a practical hands-on course, which will give individuals from migrant communities the necessary skills and knowledge to start and run their own micro business.
Content
Exploring client's business idea 
Writing a strategic business plan
Setting up a start-up-business
Understanding the legal, financial and tax requirement in Ireland
Developing a social entrepreneurship project
Development & management of incubataion units
Identifying sources of micro finance
Applying for finance
Creating a platform for clients to network with other business leaders
The course will also provide access to mentors from the migrant communities who are already running their own business, and who are willing to share their experiences and expertise.  
Clients & Partners include - PEACE III Southern Partnership, Newry and Mourne District Council Migrant Network, Cork County Integration Network, Limerick Integration Network, Dublin City Integration Forum, Dun Laoghaire Rathdown Ethnic Minority Integration Forum, South Dublin Migrant Integration Forum, Fingal Ethnic Network, Nigerian Irish Chamber of Commerce.
Ballymun/Whitehall Partnership, Dublin Enterprise Board, Limerick Enterprise Board, Limerick Chamber of Commerce, Inner City Enterprise (ICE), Small Firms Association B2B, 
Click to request further information of upcoming course dates, or telephone Marguerite Bourke - 01 8727842
NCP Training Publications 2013.
Cover image for NCPcitizenship-July 4
Summary
in March 2011, New Communities Partnership established the Citizenship Application Support Service in recognition of the need to promote a greater understanding of the citizenship application process among immigrants, and information providers in ireland.
The Citizenship Application Support Service Resource Pack (2013) is a comprehensive guide to those applying for Irish citizenship.
Cover image for A Practical Guide to Integration for Local Authorities 2013