NOTICE TO NCP MEMBERS - NCP Annual General Meeting (AGM)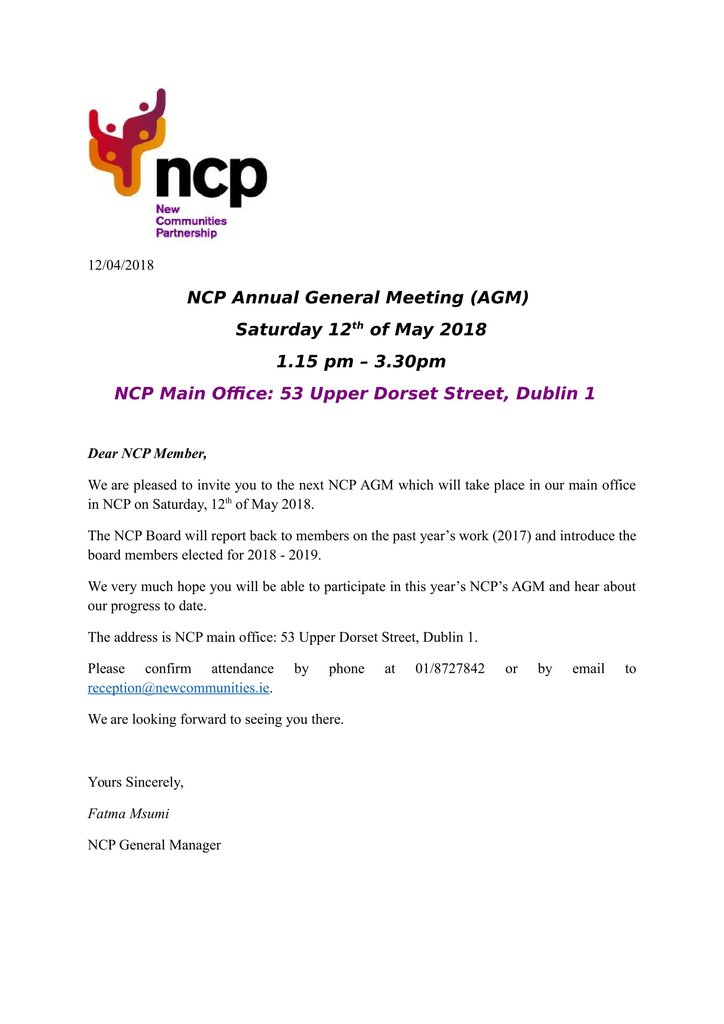 NCP Annual General Meeting (AGM) - Saturday 12 th of April 2018 (1.15 pm – 3.30pm)
Dear NCP Member,
We are pleased to invite you to the next NCP AGM which will take place in our main office in NCP on Saturday, 12 th of April 2018. The NCP Board will report back to members on the past year's work (2017), plans for 2018 and introduce the board members elected for 2018 - 2019.
We very much hope you will be able to participate in this year's NCP's AGM and hear about our progress to date.
The address is NCP main office: 53 Upper Dorset Street, Dublin 1.
Please confirm attendance by phone at 01/8727842 or by email to reception1@newcommunities.ie .
We are looking forward to seeing you there.
Yours Sincerely,
Fatma Msumi
NCP General Manager
New dates for our MAP Employment training in Dublin
The Migrant Access Programme is a FREE service that aims to support migrants to access employment in Ireland.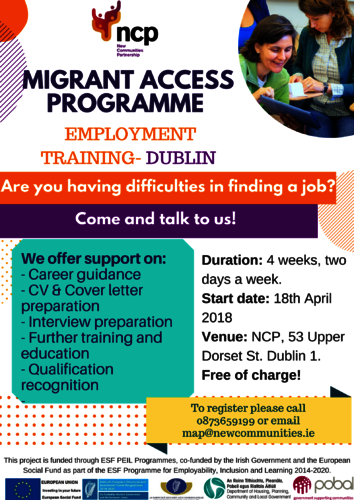 What do we offer? During the 4 weeks of training, you will explore employment and educational options, receive career guidance, build a successful CV and Cover letter, practice your interview skills and boost your confidence to go out there an get the job you are aiming for.
Click here to find specific dates and information, and contact us at 0873659199 or map@newcommunities.ie, for registration. Places are limited.
This project is funded through ESF PEIL Programmes, co-funded by the Irish Government and the European Social Fund as part of the ESF Programme for Employability, Inclusion and Learning 2014-2020.
Latest News
Upcoming Events