CREATING HOME AWAY FROM HOME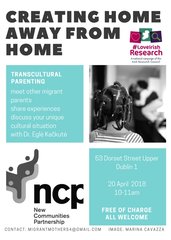 Transcultural Parenting Group starting in NCP on Friday 20th April 2018
Are you a parent raising your children away from your country of origin?
Come along and join the conversation with Dr. Eglė Kačkutė who will use experiences, stories and mothering strategies of migrant mothers in fiction to help navigate your own.
Where?
New Communities Partnership (NCP)
53 Dorset Street Upper, Dublin 1
When?
Starting 20th April 2018 @ 10-11AM
To register please email migrantmothers4@gmail.com or phone 01 872 7842
FREE OF CHARGE!
Dr. Eglė Kačkutė is a scholar working on migrant motherhood. She is also a community activist and a fun conversationalist."
Opportunity with us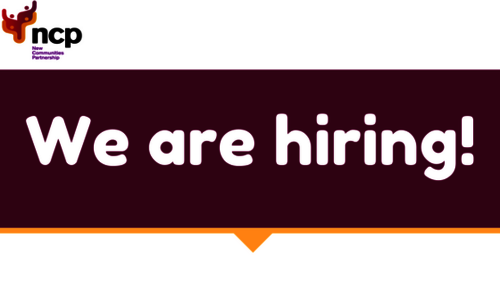 NCP is now recruiting for the position of Social Inclusion Coordinator.
The Social Inclusion Coordinator will work with the team in implementing the strategic plan of NCP in line with the organisation's objectives. Some of the main responsibilities of the role are: 
To oversee the activities of inner-city Dublin ethnic minority-led organisations including group formation and development
To organise training that enhances the capacity and leadership development of ethnic minority communities
To represent the ethnic minority voice before government and relevant stakeholders and advocating for their inclusion in mainstream planning as well as targeted approach in accessing such services
To provide one to one support to migrant individuals in relation to education, housing, employment, and other related areas.
We are looking for a candidate with strong understanding of the challenges migrants face in Ireland, great interpersonal skills, and self-motivated with a high level of initiative. He/she will also have excellent communication, networking, administration, and reporting skills.
For more information, please click here.
Latest News
Upcoming Events