New Communities Partnership (NCP)
We are Ireland's largest independent migrant-led national network of more than 150 immigrant-led groups comprising 65 nationalities. We are an organisation led by community members for community members, and the issues that we are addressing are grounded in our lived experiences. In addition to being the largest migrant-led Network in Ireland, NCP also offers a number of services that assist migrant individuals, families and groups with social inclusion, child protection, education, training, employment, cultural understanding and citizenship. Learn more about our services here.
---
Intercultural Family Festival
We are very excited to announce that we will be having our Intercultural Family Festival on Saturday 8th of July in St. Mary's Primary School. On the day we will have live music, cultural performances, food, arts and crafts for children and much more. If you would like to be part of it and represent your country and culture please get in touch with us.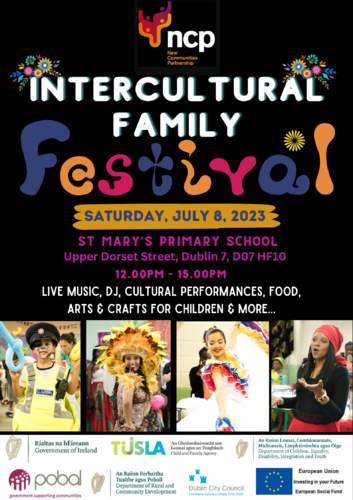 ---
Together with IMMA - Irish Museum of Modern Art we are delighted to present artefacts from the Kingdom of Kongo to explore displacement, colonialism, …
An exhibition celebrating the growth of Ireland's vibrant and diverse cultures. New Communities Partnership (NCP) in collaboration with EPIC The …