NCP Against Hate Crime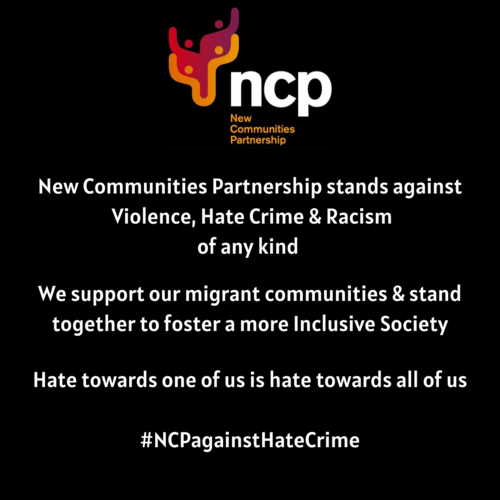 ---
Migrant Expo & Job Fair 2021
Are you looking for a job? Would you like to have an opportunity to meet recruiters and employers? Register today for free to our annual Migrant Expo & Job Fair 2021.
The event will offer you the opportunity to meet potential employers/ recruiters and learn about their organisation, recruitment process, what they are looking for in a candidate and find out about positions available.
For more information and registration please click HERE
---
Get in touch
Thanks for visiting our website. If you need support or have any queries, please find below all the contact details. We are available as usual from Monday to Friday from 9.00am to 5.00pm.
General Enquiries: 018727842 | info@newcommunities.ie
Communications & Public Engagement 0879778323 | sevak@newcommunities.ie
Employment Rights & Trainings: 0873659199 | map@newcommunities.ie
Citizenship Application Support Service: 0879654668 | ludmila@newcommunities.ie
Migrant Family Support Service: 0873324078 | familysupport@newcommunities.ie
Migrant Women - Opportunities for Work: 0873270540 | miwow@newcommunities.ie
Social Welfare, Education, Health and Accommodation: 0874514043 | nasser@newcommunities.ie
---