Membership
How to Join NCP
Membership is open to all ethnic minority individuals and ethnic minority-led organisations.
Member groups must be active non-profit organisations working with disadvantaged ethnic minority communities.
Member groups are invited after an initial application to become Associate Members for a six month period after which a Regional Network meeting must endorse full membership.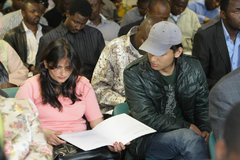 There are three types of membership of the New Communities Partnership. However, we are currently only able to facilitate full membership!
Full members (groups)
Associate members (groups intending to become full members)
Supporting members (individuals or groups who wish to support the mission and work of NCP)