Come to the First Ever Miss Bantu Ireland Beauty Pageant
10 July 2019
---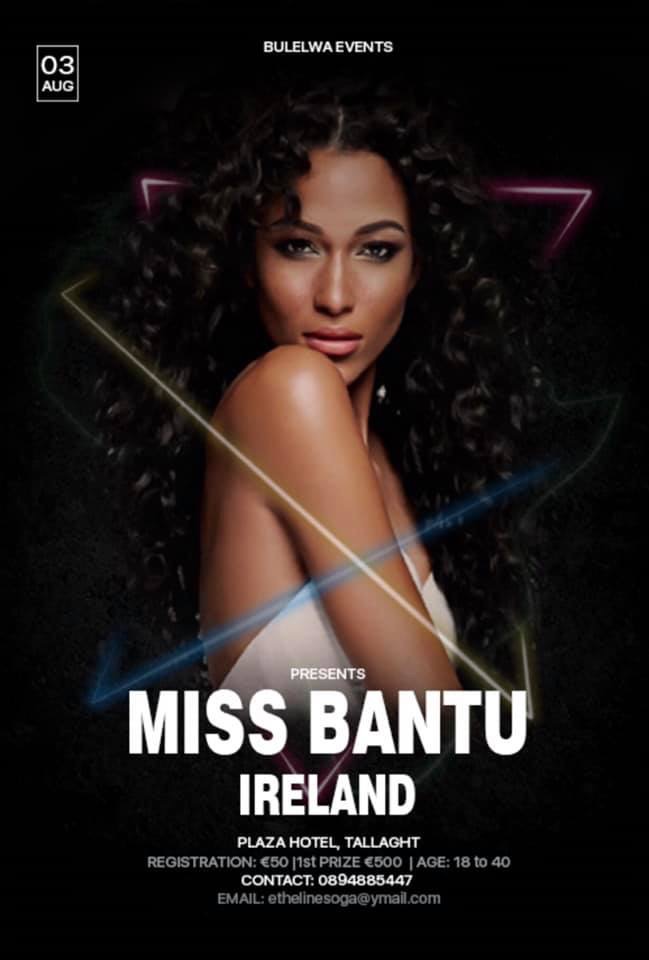 You are cordially invited to attend (or compete in) the first-ever Miss Bantu Ireland Beauty Pageant this August 3rd!  Seven models are currently signed up to compete in the pageant, who come from five different countries: Poland, South Africa, Congo, The Philippines and Pakistan.
The winner of the pageant will receive €500 with the first and second runners up receiving hampers. There will be a DJ, finger food for the audience, and an appearance by TV personality Alan McGarry-Love (who you might remember from Blind Date Ireland and Body Fixers). It promises to be a lot of fun and will aim to celebrate and encourage cultural diversity and inclusion.
Organiser Masisizane Ltd., one of NCP's member groups, says that beauty pageant contestants will showcase their cultural clothes, and perform a traditional dance from their country of origin.
As the founder of Masisizane Ltd. Ethel Soga explains, the name of the beauty pageant comes from an inclusive place. "The word 'Bantu' means people in a South African language. This word was mainly used for Africans; because we wanted to involve everyone, we decided to concentrate on the meaning of the word (people) rather than to whom the word was used for."
That inspired her and her organisation to create an event that showcases women from cultures across the world.
The pageant will take place at 17:00 on August 3rd, in The Plaza Hotel, Belgard Rd, Tallaght, Dublin, Ireland.
Tickets are available by contacting the organisers at this website address: https://www.masisizanelimited.com/events/miss-bantu-ireland-2019/form
Alternatively, if you would like to compete, contact Ethel Soga now at masilimited@gmail.com.
***
About Masisizane Ltd.
Masisizane Ltd. Was set up to offering funeral assistance (emotional and financial) to all its covered members during time of bereavement. The Organization will offer Emotional and Financial Support during difficult times.
As the organisation says, ​"It is hard enough to lose loved ones, but it is harder when you do not have money and resources to arrange the funeral or even being there because of finances. We're here to make sure that does not happen. All you need to do is to make up your mind to join."
The organisation is designed to also assist those who may find it difficult to even travel to their home country to bury their loved ones, due to lack of finances to even buy the flight tickets. Membership is open to everyone who is from the Southern Africa region who is residing in the Republic of Ireland. (There are some requirements to become a member.) For more information, go to www.masisizanelimited.com.