Symposium on Barriers to Integration for New Communities in Dublin
16 September 2009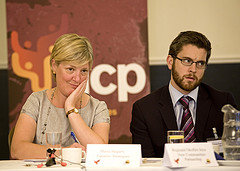 New Communities Partnership in association with Dublin Employment Pact hosted a roundtable discussion on the barriers to integration for new communities in Dublin. NCP and Dublin Employment Pact have recently completed an action research scoping exercise that examined new communities' access to public services including health, education, housing, employment and enterprise services.
The results of this and other recent research on integration were presented at this roundtable.Contributors at the half day symposium day included Maria Hegarty, (Above) Author of NCP's & Dublin Employment Pact Report 'Barriers to Integration for New Communities in Dublin'.
Also presenting their research findings were; Conor Farrell Centre for Housing Research, Dympna Devine UCD, Caitriona Ni Laoire UCC, Siobhan O'Donohue Migrant Rights Centre of Ireland, Jane Pillinger Independent Researcher, Tonya Myles Cairde, Geralyn Mc Garry Citizens Information Board & Anna Ludwinek CLIP European Foundation.