New Youth Club for Ethnic Minority Teenagers Dublin 8
15 April 2010 - 17 June 2010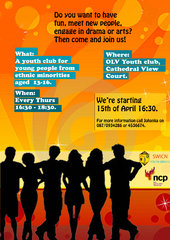 Do you want to have fun meet new people, engage in drama or arts?
South West Inner City Network are setting up a youth club for young people from ethnic minority background.
The club starts starts Thursday 15 April 2010 @ 4.30 pm ................ and every Thursday 4.30 - 6.30
For more information contact Johanka, South West Inner City Network 087 0934278
Reginald, New Communities Partnership 01 6713639.
LOCATION
OLV Youth Club, Cathedral View Court Dublin 8 (near St Patricks Cathedral).