LAUNCH OF 'OUR VOTE CAN MAKE A DIFFERENCE'
15 June 2010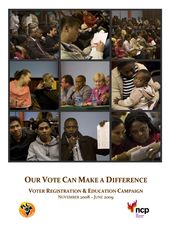 Minister Mary White, Minister of Equality, Integration & Human Rights launches OUR VOTE CAN MAKE A DIFFERENCE on Tuesday June 15.
When the New Communities Partnership & the Africa Centre launched the Voter Registration & Education Campaign, the aim was to support 10,000 immigrants in Dublin, Cork, Limerick and Galway to register their vote for the Local Elections, 5 June 2009. The final result was 15,681 immigrants registered to vote, a 44% increase on the number on previous years.
There are more than 400,000 immigrants living in Ireland, most of whom are entitled to vote in Local Elections. We estimate that at least 10% of these will vote in future Dail and Referendum elections. Politicians of all parties have recognised the potential of new immigrant voters and are tapping into this potential.
Minister Mary White, Dr Bryan Fanning, School of School of Applied Social Studies UCD, Integration Office Dublin City Council and campaign workers from Chinese, Polish, Latvian, Ghanian & Zimbawbe communities will discuss the importance of mobilising the migrant vote, the migrant politician and migrant politics.
To obtain copy of Report e mail info@newcommunities.ie. View Irish Times 16 June 2010
Venue
Wood Quay Venue, Civic Offices, Dublin City Council, Dublin 8