Integration and Communication Forum in Ireland (ICFI) Health Promotion Seminars, Balbriggan, Co Dublin
6 April 2011 - 13 April 2011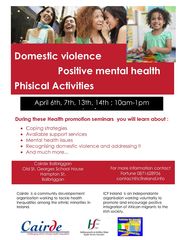 The Integration and Communication Forum in Ireland (ICFI) is an independent and Non-governmental organisation, working voluntarily for an inclusive society, to promote equality and positive integration in Irish society of African migrants.
The Integration and Communications Forum in Ireland, Balbriggan, Co Dublin is organising health promotion seminars on the following:
Domestic Violence, Positive Mental Health and Physical Activity.
The event will take place on 6th, 7th, 13th and 14th April at Cairde Balbriggan, Old St Georges School, Hampton Street, Balbriggan County Dublin.
Our prominent speakers will be from HSE health promotion Unit and AkiDWa, along with information-packed workshops, which will fill the agenda.
Seminars are open to all. Please contact Fortune Fugeral-Pouela at contact@icfireland.info to let us know whether you are able to join us.