DIWAL FESTIVAL OF LIGHTS
22 October 2011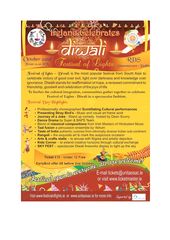 Diwali (Festival of Lights) in India is like Christmas in Ireland. Just like Christmas, presents, excited families, food and sweets are an integral part of Diwali. There is just one difference between Christmas in Ireland and Diwali - FIREWORKS!!
To embrace true multiculturalism and to further the cultural integration considering the modern, multi-cultural Ireland we live in today, we bring the experience of celebrating Diwali - Festival of Lights to Dublin in a spectacular fashion on 22nd October 2011.
Festival of Lights in Ireland is supported by Dublin City Council as part of the One City One People Campaign.
October 22, 2011 at 12.00 - 19.30, RDS Simmonscourt Hall, Ballsbridge, Dublin-4.