South Dublin Migrant Integration Forum Training
11 January 2012 - 18 January 2012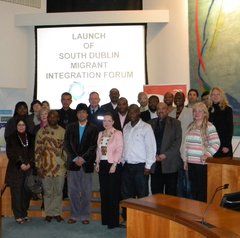 South Dublin Migrant Integration Forum first meeting and training for 2012 will take place on Wed 11 & Wed 18 Jan 2012. The training on effective participation will equip Forum members with the necessary skills for representing their organisations and the Forum on committees.
South Dublin Co Co Offices, Tallaght (room to be confirmed).
Wednesday, 11th Jan & 18th January, 10am-1pm
Please confirm attendance with Dominika Topolska - dominikat@newcommunities.ie or txt or Txt 087 9531815.